Anthracnose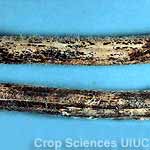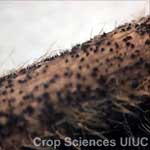 Symptoms:
Infected seeds may not germinate.
Dark, sunken cankers can occur on the cotyledons, epicotyl, and radicle of seedlings to cause pre and post-emergence damping-off.
In older plants, brown cankers may develop on petioles and cause defoliation, and irregular brown spots may develop in a random pattern on stems and pods.
Infection of pods may result in few or small seeds per pod.
Stems, pods, and leaves may be infected without showing external symptoms until the weather is warm and moist.
As plants approach maturity, infected areas may be covered with tiny black spines (setae); these can be seen with a 10X hand lens.
Anthracnose can reduce yields, decrease stands, and reduce seed quality.
Pathogen Involved:
Colletotrichum truncatum, Glomerella glycines and other fungi
These pathogens overwinter in infected crop residue and infected seeds.
Time of Occurrence:
Conditions Favoring Disease:
Disease Management:
Soybean varieties differ in their resistance to anthracnose.
Plant pathogen-free seed.
Treatment of infected seeds with a fungicide is recommended.
Fungicidal sprays may be helpful after bloom.