Bean Pod Mottle (BPM)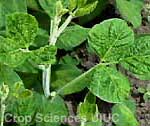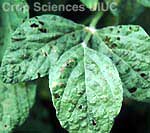 Symptoms:
Green to yellow mottling of young leaves, and leaves may become distorted in severe cases.
Symptoms may not be at high temperatures or after pod set.
Pod formation may be reduced when plants are under moisture stress.
BPM may be one cause of green stem syndrome where plants retain green stems and leaves after pods and most nearby plants have matured.
This virus has been associated with green stem syndrome, and can interact with soybean mosaic virus (SMV) to create very severe symptoms.
Pathogen Involved:
Bean pod mottle virus (BPMV).
Transmitted by leaf-feeding beetles such as the bean leaf beetle. Seed transmission rates are very low.
Host range includes common bean and some clovers.
Time of Occurrence:
Conditions Favoring Disease:
Cool temperatures.
Infection that occurs early in season.
Presence of bean leaf beetles that transmit the virus when feeding. Reduced following severe winters that result in poor survival of beetles.
Disease Management:
At this point effective management tactics are not available.
Resistant varieties have not been developed
The value of insecticides for controlling bean leaf beetle transmission is uncertain.