Downy Mildew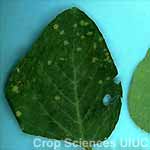 Symptoms:
The initial symptoms are small light green spots (not water-soaked) with raised, centers on the upper and lower surfaces of leaves.
Tan to gray tufts of fungal growth often develop on lower leaf surfaces, especially
under wet and humid conditions.
It can cause defoliation and reduced yields, but yield losses are typically minimal.
The lesions can grow together into large irregular brown areas. Pod and seed infection can also occur. Seeds may become covered with a whitish coating.
Pathogen Involved:
Peronospora manshurica (a fungus).
Common snap bean is another host.
It overwinters on infected leaves and seeds, and can be transmitted by seed.
Time of Occurrence:
All season; young leaves are most susceptible.
Conditions Favoring Disease:
Dew and high humidity.
Warm temperatures.
Infested residue on soil surface.
Susceptible varieties.
Infested seeds.
Disease Management:
Select resistant soybean varieties.
Use appropriate seed treatments.
Bury infested residue where feasible and where disease has been severe.
Rotate with a non-bean crop.