Fusarium Wilt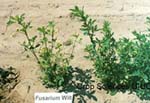 Symptoms:
When disease begins, wilting may occur but plants often recover their stature overnight.
Stems and leaves of only one side of a plant may initially discolor or wilt.
The leaves and stems develop chlorois and turn light in color.
As the disease progresses the entire plant may wilt, develop a yellow or reddish tint, and die after several months.
Dark brown specks develop near the center of the root and often increase to form a complete or partial circle; this diagnostic symptom is best seen by cutting cross-sections of upper part of the root.
Infected plants usually occur in scattered patches in a field
Pathogen Involved:
Fusarium oxysporum f. sp. medicaginis (a fungus)
The fungus infects through wounds in roots.
Survives in soil and infested plant debris
Time of Occurrence:
All season
Most common in stands two or more years old
Conditions Favoring Disease:
Warm soil temperatures favor this disease, and is not favored by high soil moisture.
Root knot nematode injury can increase severity of Fusarium wilt.
Disease Management:
Use cultivars with resistance to Fusarium wilt and to the root knot nematode