Holcus Spot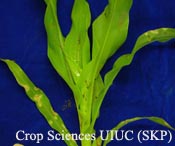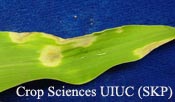 Symptoms:
Initial lesions are water-soaked and dark green
Lesions develop into round or elliptical, tan to white spots that are 2 to 10mm in diameter. Lesions become necrotic with red to brown margins and may develop yellow halos
Lesions will often form on the tips of lower leaves
Symptoms can be easily confused with damage from paraquat drift
Pathogen Involved:
Pseudomonas syringae pv. syringae
Overwinters in crop debris and will infect through stomata.
The pathogen has a wide host range including many grasses and dicots
This pathogen can have ice nucleating activity and may enhance frost injury to corn leaves.
Time of Occurrence:
Occurs early in the season.
Conditions Favoring Disease:
Prolonged wet weather
Warm temperatures (76 to 86°F)
Wind and early season thunderstorms
Disease Management:
Crop rotation
Tillage may be beneficial where appropriate