Sudden Death Syndrome (SDS)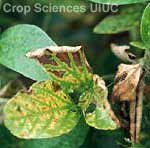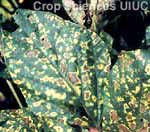 Symptoms:
The most commonly observed symptoms are on severely affected leaves, but the primary disease is a root rot.
Initial symptoms are usually scattered chlorotic spots that occur between the veins on leaves, and the leaves may be cupped or curled.
These spots typically enlarge between veins to become brown lesions surrounded by chlorotic areas.
As the disease progresses, the leaves detach from the petioles.
Roots become rotted and plants may be pulled easily from the ground.
Gray discolored areas develop inside the root and in the vascular tissue of the lower stem.
The pith remains white, which is a diagnostic feature that distinguishes this disease from brown stem rot.
Pathogen Involved:
Fusarium solani f.sp. glycines (a fungus).
Soybean appears to be the main host of this pathogen, but snap and lima bean may be infected.
This pathogen overwinters in soil.
Time of Occurrence:
Infection occurs early in the season, but symptoms usually occur after pods begin filling.
Conditions Favoring Disease:
Well-fertilized field with high yield potential.
Early planting.
Cool, wet soil.
Soybean cyst nematode infection is often associated.
Early maturity.
Disease Management:
Plant soybean varieties with the highest level of tolerance or resistance available.
Reduce excessive soil moisture with drainage and minimize compacting.
Manage fields to reduce SCN populations.
Stagger planting dates.
For more Information on SDS, see the online SDS report.