Home --> Fruit & Vegetable --> Apples and Pears
Apples and Pears
February Featured Fact Sheet:
Eastern Tent Caterpillar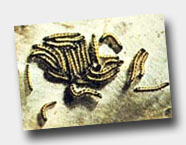 The adult moth is reddish-brown with two whitish stripes running obliquely across each forewing. Full grown caterpillars are generally black and about two inches long. They have a white stripe down the back and a series of very blue spots between longitudinal yellowish lines. The larvae are quite hairy.
Click here to read more about Eastern Tent Caterpillar