Home --> Fruit & Vegetable --> Brambles
Brambles
March Featured Fact Sheet:
Cane Blight of Raspberries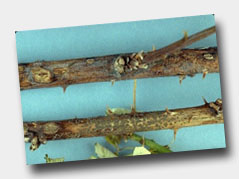 Cane blight is caused by the fungus Leptosphaeri coniothyrium (the imperfect stage, Coniothyrium fuckelii). This disease, more common on black raspberries, also occurs on red and purple varieties but rarely attacks blackberries and dewberries. Cane blight can result in wilt and death of lateral shoots, a general weakening of the cane, and reduced yield.
Click here to read more about Cane Blight of Raspberries