Home --> Fruit & Vegetable --> Brambles
Brambles
December Featured Fact Sheet:
Spur Blight of Raspberries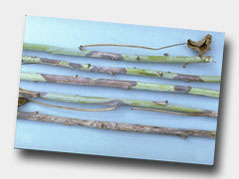 Spur blight is caused by the fungus Didymella applanata (the imperfect stage is an unnamed Phoma sp.). This disease is more common and serious on red raspberries and to a lesser extent on black and purple raspberries and loganberries. Blackberries and dewberries are highly resistant to this disease. Spur blight can cause yield losses in several ways. It can blight the fruit bearing spurs, cause premature leaf drop, and kill buds on the canes that later develop into fruit bearing side branches. In addition, berries produced on diseased canes may be dry, small, and seedy. Affected canes may be more vulnerable to winter injury than uninfected ones.
Click here to read more about Spur Blight of Raspberries