Home --> Fruit & Vegetable --> Insects
Insects
August Featured Fact Sheet:
Strawberry Root Weevil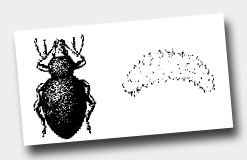 Adult strawberry root weevils are brown-to-black, blunt-snouted weevils that are about 1/3-inch long. The wing covers are marked by many rows of small pits. Like the strawberry crown borer, the adult strawberry root weevil cannot fly. Larvae are thick-bodied, white, comma-shaped, legless grubs that reach approximately 1/4-inch in length.
Click here to read more about Strawberry Root Weevil