Home --> Fruit & Vegetable --> Strawberries
Strawberries
May Featured Fact Sheet:
Strawberry Leaf Blight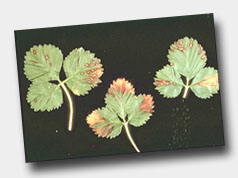 This disease is caused by the fungus Dendrophoma obscurans. Leaf blight (lower picture) is commonly found on plants after harvest. This disease is distinctly different from leaf spot and leaf scorch. The enlarging leaf spots are round to elliptical or angular and 1/4 inch to an inch in diameter (6 to 25 millimeters). The spots are initially uniformly reddish-purple, but soon develop a darker brown or reddish-brown center surrounded by a light-brown area with a purple border. Similar spots sometimes develop on the fruit calyx.
Click here to read more about Strawberry Leaf Blight