Home --> Fruit & Vegetable --> Cucurbit Crops
Cucurbit Crops
February Featured Fact Sheet:
Anthracnose Blight of Cucurbits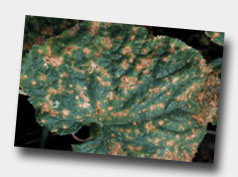 Anthracnose, caused by the fungus Colletotrichum orbiculare, is a destructive disease of cucurbits or vine crops in warm seasons with frequent rains. The disease occurs worldwide. Losses have been greatest on watermelon, muskmelon, cucumber, gourds, and to a lesser extent on pumpkin, West Indian gherkin and chayote. Other susceptible cucurbits include citron, mock-cucumber, balsam-apple, balsam-pear, and numerous weeds belonging to the cucurbit family. Losses of 30 percent or more can occur on susceptible crops where control practices are not followed.
Click here to read more about Anthracnose Blight of Cucurbits