Home --> Fruit & Vegetable --> Cucurbit Crops
Cucurbit Crops
August Featured Fact Sheet:
Powdery Mildew of Cucurbits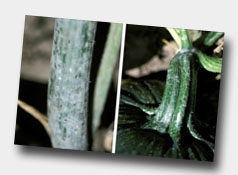 Powdery mildew, caused by the fungi Podosphaera xanthii (syn. Sphaerotheca fuliginea) and Erysiphe cichoracearum, is one of the important diseases of cucurbits in the Midwest. It occurs in greenhouse and field in most areas of the world. All cucurbits are susceptible to powdery mildew, but symptoms are less common on some crops (e.g., cucumber and melon) because many commercial cultivars have resistance. Premature senescence of infected leaves can result in reduced market quality because fruit become sunburnt or ripen prematurely or incompletely. Powdery mildew infection predisposes plants to other diseases. Physiological races of the pathogens have been identified.
Click here to read more about Powdery Mildew of Cucurbits