Home --> Fruit & Vegetable --> Cucurbit Crops
Cucurbit Crops
June Featured Fact Sheet:
Fruit Rots of Pumpkin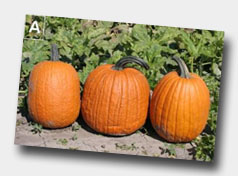 The word "pumpkin" is derived from the Latin word pepo, which is a botanical term for fruit with a hard rind and fleshy interior. The commonly used scientific name for pumpkins is Cucurbita pepo. But some other cucurbits, such as Cucurbita moschata (e.g., 'Dickenson' and 'Libby Select', known as processing pumpkin) (Figure 1, B) and Cucurbita maxima, which are winter squash, are also known as pumpkins. Most commonly, any Cucurbita fruit with an orange color is considered pumpkin (Figure 1, A-C). However, Cucurbita cultivars with white fruit, such as 'Lumina' and 'Cotton Candy' are also considered pumpkin (Figure 1, D). Here, term "pumpkin" will be used instead of pumpkin fruit.
Click here to read more about Fruit Rots of Pumpkin