Home --> Fruit & Vegetable --> Diseases
Diseases
August Featured Fact Sheet:
Downey Mildew of Grape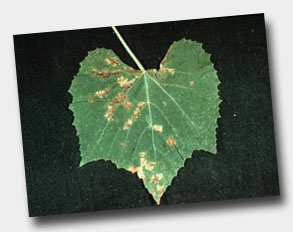 Downy mildew, caused by Plasmopara viticola, is a major disease of grapes in the Midwest. The pathogen attacks all green parts of the vine. The disease occurs worldwide wherever the weather during the growing season is humid and rainy. Only a few of the older leaves may develop symptoms if the growing season has been hot and dry. Direct yield losses are caused by rotting inflorescences and clusters. Indirect losses can result from premature defoliation of vines due to foliar infections. This premature defoliation is a serious problem because it predisposes the vine to winter injury.
Click here to read more about Downey Mildew of Grape