Home --> Turfgrass --> Diseases
Diseases
February Featured Fact Sheet:
Phomopsis Twig Blight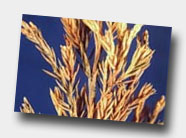 Phomopsis twig blight of juniper, also known as nursery blight, cedar, juniper, or needle blight, is caused by the fungus Phomopsis juniperovora. Economic damage to landscape plantings and nursery stock is largely restricted to species and cultivars of juniper (Juniperus). Other evergreens that are attacked include arborvitae (Thuja), species of true cedar (Cupressus), and false cedar (Chamaecyparis), European larch (Larix decidua), jack pine (Pinus banksiana), English yew (Taxus baccata), Japanese plum yew (Cephalotaxus drupacea), Douglas fir (Pseudotsuga taxifolia), species of fir (Abies), and Cryptomeria japonica. The disease is mainly a leaf and shoot infection found in young plants and on the new growth of older plants.
Click here to read more about Phomopsis Twig Blight